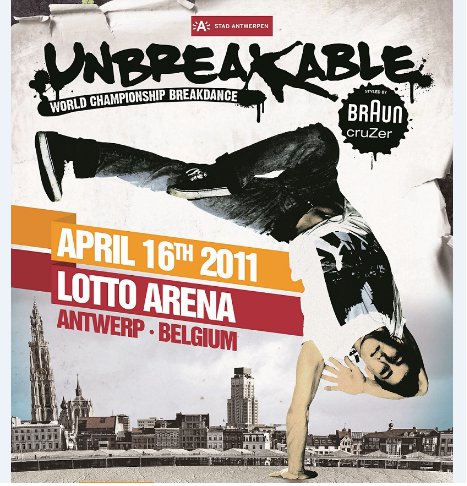 Nesse último dia 16 de abril de 2011, Bboy Neguin venceu Unbreakable 2011, que foi realizado Antwerp – Belgium. No evento participaram 16 Breakers, onde a batalha era de 1 vs 1. Confira a lista dos breakers participantes.
O Unbreakable World Championship traz 16 dos melhores bboys do mundo, que vão disputar 1 a 1 na Arena Lotto!

Após cinco anos mudamos muito claro. Estamos orgulhosos de anunciar que a 6 ª edição deste evento internacional breakdance, Unbreakable, terá lugar em Antuérpia, em 16 de abril de 2011.

Durante o dia, todos os bailarinos podem se registrar para batalhas internacionais, workshops e concurso de Urban Dance Show. Essas competições serão realizadas na Trix, apenas a 800 metros da Arena Lotto.
1. Thesis (Knuckleheads Cali – USA)
2. Cheerito (E.O.S./Mafia 13 – Russia)
3. Nauty One (Rivers – Korea)
4. Kleju (Polskee Flavour/Funky Masons/Missionairies of Rhythm – Poland)
5. Tuk (OPB – Belgium)
6. Sambo (Team Shmetta – Belgium)
7. Lagaet (Momentum – Portugal)
8. Nabil (Vagabonds – France)
9. Neguin (Tsunami Allstars – Brazil)
10. Puzzles (Supernaturalz – Canada)
11. Morris (Fallen Kings – USA)
12. Pluto (Ruffneck Attack – Ukraine)
13. Vero (Jinjo – Korea)
14. El Niño (Boogie Brats – USA)
15. Hurricane Ray (Team Shmetta – The Netherlands)
16. Nadia (Da Funky Style – Russia)
Onde o corpo de jurado eram;
Tony Rock, Ata e Focus.
Esse título prova mais uma vez que o Brasil tem representantes de peso no mundo bboy.
Parabéns Neguin!